Philippines: Solar fridges for disaster area from Machynlleth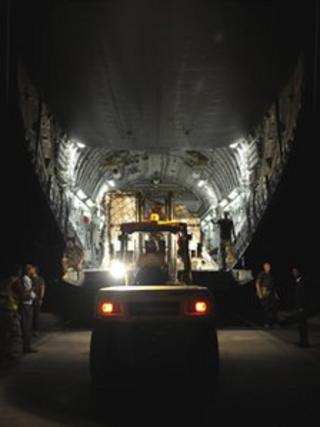 Solar-powered fridges made in Powys and used to keep medical supplies cool have been flown to the Philippines to help victims of Typhoon Haiyan.
The fridges, manufactured by Dulas in Machynlleth, Powys, were part a £50m aid shipment which flew from RAF Brize Norton in Oxfordshire on Friday.
They will ensure medicines, vaccines and blood stocks are kept cool without the need for conventional electricity.
It comes as the death toll from Typhoon Haiyan rises above 5,000.
The country's National Disaster Agency says that 5,209 people are now known to have lost their lives, with many more still missing.
Haiyan was one of the most powerful typhoons ever recorded. Winds of up to 270km/h (over 165mph) hit the central Philippines when it made landfall on 8 November.
Parts of low-lying islands were completely flattened.
The solar vaccination fridges were among a number of humanitarian items chosen by the Department for International Development to help victims of the typhoon.
They are being delivered to the World Health Organisation (WHO).
Dulas has over 30 years' experience of supplying WHO-approved solar vaccine refrigerator systems across the world to communities in remote areas or without a secure electricity supply.
Cath Peasley, business manager at Dulas, said: "These medical refrigerators operate completely independently from the electrical grid, meaning essential vaccinations and medicines can be reliably stored to support medical efforts in the country.
"Our hearts go out to the people of the Philippines and we hope this technology can contribute to easing their suffering."
To ensure they are effective, vaccines, blood and medical supplies must be safely refrigerated at between two and eight degrees Celsius from the time they are manufactured until they are administered.