Aberystwyth police drama Y Gwyll gets second series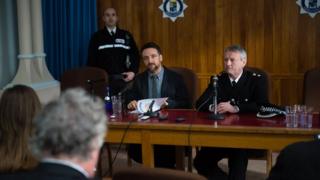 A TV detective drama shot in Ceredigion in Welsh and English is to get a second series after a "phenomenal" public response, S4C has announced.
Called Y Gwyll in Welsh and Hinterland in English, it was shown on S4C earlier this month and is set to be aired on BBC TV next year.
Filming for the four two-hour episodes took place in Aberystwyth, Devil's Bridge and Borth and ended in May.
It starred Welsh actor Richard Harrington as Det Ch Insp Tom Mathias.
Harrington has starred in several TV series including the BBC's Lark Rise to Candleford.
'Exceptionally good'
His latest series has been inspired by the success of bleak Scandinavian crime dramas such as The Killing and Wallander - a genre dubbed "Nordic noir".
The Danish broadcaster behind The Killing, DR Denmark, has bought the rights to show the Ceredigion-based drama following reports the Welsh landscape would appeal to its viewers familiar with the Copenhagen-set series.
Set against a backdrop of mountainous land, isolated farms and a close-knit village, Harrington's character in Y Gwyll comes to Aberystwyth in search of a new beginning.
S4C said the response to the programme had been phenomenal and work had already begun on developing a new series which was expected to be shot in the Aberystwyth area.
The channel's drama commissioner Gwawr Martha Lloyd said: "Y Gwyll was an exceptionally good series and it's apparent from the public response that it has been appreciated by viewers from Wales and beyond.
"The end of the series on S4C has raised more questions about the enigmatic detective's chequered past and sparked a desire to see more.
"I'm pleased to confirm that there is more of Y Gwyll to come, and in time, we will announce further details about when the viewers can expect to see it on S4C."
In December last year, the Welsh government said the filming of Y Gwyll in Ceredigion would inject £4.2m into the economy and create new jobs.
The programme makers received £215,000 in repayable business funding from the Welsh government.