Fears over future of Ceredigion's CCTV service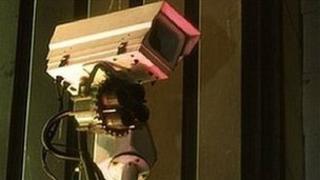 The future of CCTV provision to tackle crime in Ceredigion will be thrashed out in talks between the county council and Dyfed-Powys Police.
Last week the local authority's cabinet backed a plan to ask the force to take over and fund the service and save the council £150,000 a year.
The council has warned the service will stop if the police refuse to take the reins.
But a local business leader claims this could lead to a rise in crime.
Dyfed-Powys Police has confirmed it has started negotiations with the council.
The move is part of Ceredigion council's aim to save £9.6m during the next financial year.
There are 23 town centre CCTV cameras in Ceredigion.
One supervisor and two operators are employed by the council to monitor the cameras.
A report submitted to the cabinet said the CCTV system used to help catch criminals has been used in Aberystwyth but "the system is hardly used in other towns".
It added: "It is suggested that the police should be asked to take over and fund this activity otherwise it should cease."
A Dyfed-Powys spokesman confirmed that the force does not fund any CCTV system at present.
Carmarthenshire council funds the police CCTV system in Llanelli, Ammanford, Carmarthen and a number of car parks in that county.
Similarly, Pembrokeshire County Council and some town councils funded police CCTV systems in that area of the force.
Assistant Chief Constable Pam Kelly said: "Community safety is a priority for Dyfed-Powys Police, and CCTV is an important crime prevention and reassurance tool in our communities.
"In recognition of this, against the backdrop of budget reductions, Ceredigion County Council and Dyfed-Powys Police are discussing what options are available in respect of CCTV for Ceredigion."
Chris McKenzie-Grieve, president of Aberystwyth Chamber of Commerce, said he was worried about the consequences of removing the CCTV system.
"People know that the CCTV system is in place in Aberystwyth," he said.
"It stops people from doing something stupid when they are out at night and is a proven tool to help crime prevention.
"If the service is taken away then it could lead to more incidents and more police interventions on the street at night-time which will be counter-productive."