Whitton governors to fight Powys school closure plan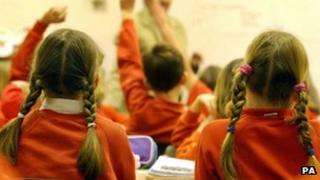 Governors of a school that has been open for nearly 300 years have vowed to fight its proposed closure.
Powys council has started a formal consultation to shut Whitton Primary School with 26 pupils on its register.
The local authority's policy is to review the future of any school with fewer than 35 pupils.
A local trust has offered to pay £120,000 over the next three years to reduce the cost of funding per pupil to the county average.
Dame Anna Child's Endowed School Trust has backed the school financially for three centuries.
'Vigorously contested'
Powys council's cabinet decided to launch the consultation process because of low pupil numbers at the school, which claims to be the oldest non-denominational aided school in England and Wales.
Graham Skipworth, the school's chair of governors, said the closure plan would be "vigorously contested".
He added: "Staff, governors, parents and the wider community will discuss the consultation document at a meeting within the next few weeks and the trust are set to hold a meeting to come up with ideas to save the school in early March.
"Closing the school will not only have an affect on our community but we also have a number of vulnerable pupils who have come to Whitton because they perform better at a small close-knit school rather than one with a large number of pupils."
He added that the governors would look at the possibility of a federation with another school.
The school opened in a barn in the village in 1724 after Dame Anna Child, who died in 1703, bequeathed £500 to set up a trust to pay for a schoolmaster to teach the children of Whitton and Pilleth.
Numbers 'swelled'
Dame Anna Child's Endowed School Trust is still offering to pay £120,000 over the next three years to reduce the cost of funding per pupil to the county average.
"The council has been informed that it will not be able to access any money from the trust if the school closes," said Mr Skipworth.
Local county councillor Hywel Lewis said pupil numbers are forecast to grow above the threshold number of 35 by September 2015.
"The prediction was for 38 pupils to be attending the school with 16 children in playgroup and mothers and toddlers which would have further swelled numbers in time," he added.
"Whitton school has embraced the idea of federation but I find it regrettable that the governors at Presteigne primary school were allowed to veto the plan."
A Powys council spokesman said all schools involved had to agree to federation and that the local authority had no legal power to force them to federate at present.