Aberystwyth allotment not contaminated by floods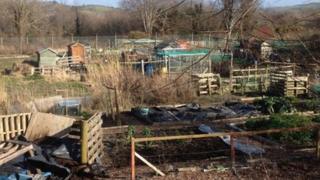 Gardeners can start planting vegetables again on an allotment flooded two years ago following concerns it may have been contaminated.
Ceredigion council advised 27 allotment holders in Penparcau, near Aberystwyth, not to use the plots after the River Rheidol burst its banks in June 2012.
There had been fears over contamination by heavy metals including lead.
But a report has found that the land was not polluted and is suitable for gardening.
The council is writing to all the allotment holders to let them know.
Parts of north Ceredigion had 5ft (1.5m) of standing water, with caravan parks, homes and businesses all suffering from the effects of the torrential rain on 8 and 9 June 2012.
Concerns over contamination arose because areas above Aberystwyth including Cwmsymlog, Cwmerfyn and Bancydarren were mined for lead in the 18th and 19th Centuries before the industry declined from around 1880, ending at the start of the 20th Century.
Ceredigion council said its officials met the local allotment holders' association to discuss the findings of the report commissioned by the authority into the soil conditions.
"The report's overall findings indicate that the allotment land is not classed as contaminated class one or class two land and is suitable for continuing cultivation," said a spokesman.
"Ceredigion County Council will write to all the allotments holders within the next few days updating them on the situation and indicating the link to the report which will be put on the council's website once it is officially signed off."