Aberystwyth hearing underway on superstore plans for home demolition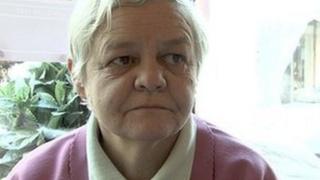 A grandmother's fight to save her home from demolition to make way for two superstores in Aberystwyth continues at a public hearing into the plans.
Twelve homes in Glyndwr Road face demolition, with Enid Jones, 58, the only resident refusing to sell.
Tesco and Marks and Spencer stores are planned for the Ceredigion council-owned Mill Street car park nearby.
Today's hearing will consider evidence from the council. Objectors will have their say tomorrow.
The authority issued a compulsory purchase order for Mrs Jones's home in May last year.
Planning inspector Sian Worden said it was her job to listen to evidence from those for and against the compulsory purchase plans, including a barrister representing Ceredigion council, before giving a recommendation.
The Welsh government will make the final decision following the two-day hearing at Ceredigion council's offices in Aberystwyth.
Planning and development consultant Glyn Pritchard-Jones, whose company Perfect Land speaks for Mrs Jones, said: "Mrs Jones thinks the Tesco development can be delivered without the need to demolish properties in Glyndwr Road.
"She is still opposed to her house being demolished."
As part of the plans for the shopping development a number of other buildings would have to be knocked down, including a day centre, a drill hall and a disused garage.
The two superstores could open by December 2016, the council has said, and it claimed the development would boost town centre trade by between £1.6m and £3.5m a year.
A council report had said the two retail stores were looking to employ 295 full-time equivalent jobs, generating around £2.95m in wages for the local economy.