Blaenporth 'solar city' fears over renewable developments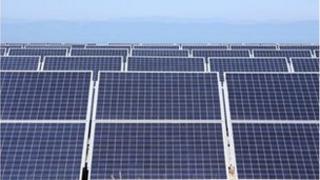 A community councillor has raised fears that a Ceredigion village could become a "solar city" as renewable energy companies look to develop sites in the area.
Ceredigion council gave the area's first solar farm the go-ahead last December.
It agreed to let Elgin Energy develop a 42-acre (17 hectare) site at Blaenporth, north of Cardigan.
Opponents said it would open the door to similar projects in the area.
Another company, juwi Renewable Energies will hold a consultation event at Beulah about a possible 49-acre (20 hectare) solar farm with 27,000 solar panels between Blaenporth and Beulah on 25 March.
A company spokesman said it intended to put in a planning application for the development in the next month.
'Flood-gates'
Meanwhile Carmarthenshire-based company Amgen Renewables has written to landowners in the area stating it is looking to develop solar farms in a 10-mile radius around Aberporth,
Blaenporth community councillor June Allen said: "It looks like renewable energy companies are targeting this area to develop solar farms.
"Ceredigion council has opened the flood-gates after allowing the first solar farm.
"Things are going too far and I am worried that Blaenporth and the surrounding area could become an industrial solar city."
Dr Peter Hughes, managing director of Amgen Renewables, said: "We are definitely not looking at a solar city situation because we are sensitive to locals' concerns.
"We would consider developing up to four solar farms on sites of between 20 and 100 acres in the area on land that lent itself to planning purposes."
David Mackins, of juwi Renewable Energies, said: "We recognise the development will have some impact on the local area so it is important that the community has the opportunity to help shape the design.
"We have chosen the site carefully in order to minimise the effects on the local area, to enable the farmer to continue to farm the land beneath the panels, and to bring benefits to the surrounding wildlife".
Beulah's county councillor Lyndon Lloyd said: "It is very important that locals attend the consultation event so that they can get answers to any questions they may have."
The event will take place at Beulah Hall between 14:00 GMT and 19:00 GMT on 25 March.