Cardigan Castle archaeologists reveal medieval archway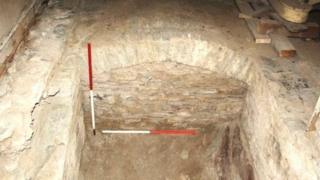 Archaeologists have uncovered a medieval archway buried in the floor of Cardigan Castle.
Excavation work revealed a possible entrance into the tower of the original castle which dates back to the 1170s.
The 18-month project to uncover the 800-year history of the site has been conducted by NPS Archaeology.
It is part of an £11m renovation scheme which aims to re-open part of the castle site to the public later this year.
Welsh government heritage body Cadw has been called in to examine the archway which has been sealed off.
NPS Archaeology project manager Nigel Page said the top of the archway had been unearthed when workmen removed floorboards at the entrance corridor of the Georgian-era Castle Green House.
'Vaulted ceiling'
"Building works revealed a possible entrance into the medieval tower which forms the back of the existing house," he said.
"The entrance is formed by an opening capped by the vaulted ceiling of the basement, flanked by massive stone walls which form parts of the south wall of the medieval tower.
"The entrance was only partially exposed during the works as the later house has been built over the top of it, so most of the medieval remains are obscured."
Mr Page added that he hoped post-excavation analysis of the site will help to pinpoint a date for the archway.
"Even though it cannot be dated at the moment the entrance is a very exciting discovery as it is a key architectural element of the medieval remains on the site," he said.
Turbulent history
Earlier this year Mr Page and his team uncovered 9,500 artefacts including part of a dolphin skull and a medieval arrowhead at the site.
The building is regarded as the first stone castle built by the Welsh princes and was the stronghold of Rhys ap Gruffydd, prince of the medieval kingdom of Deheubarth.
It is also said to have hosted what is regarded to be Wales' first eisteddfod, but for years it stood crumbling at the riverside gateway to the town centre.
Cardigan Castle had a turbulent early history and was captured and lost several times by Llywelyn the Great before it ended up in Norman hands after his death in 1240.
For the past 15 years the Cadwgan Building Preservation Trust has campaigned to save the site.
When work on the castle is finished it will have educational facilities for the Welsh language, cultural, environmental and horticultural studies.
There will also be luxury accommodation for hire, a restaurant and an eisteddfod garden.
The aim is to increase visitor numbers from 3,000 to 30,000 a year.
The project has received funding from the lottery and the European Regional Development Fund, through the Welsh government, along with other organisations.