Knighton clock free to carry on chiming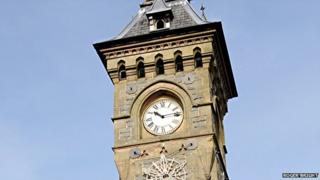 The chimes of Knighton's Victorian town clock will keep sounding through the night as they have done for 140 years after a resident withdrew a noise complaint.
Novelist Lane Ashfeldt had objected to the clock after her move to the Powys town last year to set up a B&B.
But she said she had underestimated the strength of feeling about the timepiece and withdrew her complaint.
Town mayor Roger Bright said he was very pleased at the outcome.
The clock, which dates back to 1872, has chimed the time every 15 minutes since it was put up.
Ms Ashfeldt had lodged a formal noise nuisance complaint about the clock as she said the chimes were disturbing guests at the B&B, which she runs as a writers' retreat.
She said: "I made inquiries of the council after complaints from guests whose sleep had been disrupted.
"But at the time I was not aware of the likely strength of feeling on this issue locally.
"In any case, I have today contacted the council and asked them to withdraw any complaint that has been registered on my behalf.
"I apologise for any upset that has been caused to the community."
Mr Bright told BBC Wales he was very pleased the clock would continue to chime.
However, he added: "The good thing [about the complaint] is that it has put Knighton on the map a bit. It could boost our tourist trade."