Newtown plans to ban traffic from a town centre street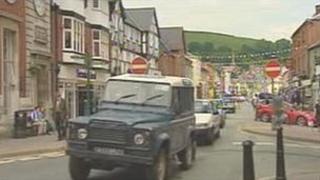 Plans to ban traffic from a mid Wales town centre street one day a week are to be put out to public consultation.
Newtown town council will ask locals for opinions about making Broad Street a car-free area during its weekly market on Tuesdays.
In the meantime it has decided to stop market stall holders from parking on the street on market day.
The town's Mayor said the proposal could boost town centre trade which had suffered in recent years.
In February the town council decided to launch a trial pedestrianisation of the town's High Street every Tuesday from 1 April.
But this plan was put on hold after Powys council raised concerns about parking issues.
Mayor Rina Clarke said: "We want to improve the shopping and visiting experience for people coming into town and reclaim the street for the market one day a week.
"Powys council told us that pedestrianising Broad Street on market day was a better idea because people are not allowed to park there on that day anyway.
'Positive experience'
"We will also inform market stallholders they cannot park their vehicles on Broad Street any longer."
Mrs Clarke added that the consultation, which will include a questionnaire, will start in April.
"We want to make shopping a positive experience in the town so that people will keep coming back here," she said.
Newtown Chamber of Trade chair, Mary Tudor, said her organisations supported closing Broad Street to traffic one day a week for a trial period.
"We won't know if the idea will work or not until that trial takes place," she added.
"There will be a continental market held on Broad Street on the first weekend in June and that will be a good opportunity for people to see how the road closure will affect trade.
"If that market is a success then people might see the benefits of pedestrianisation in Broad Street for one day a week."