Buttington crossing safety procedures 'inherently unsafe'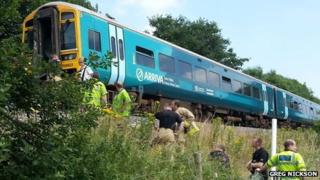 Safety procedures at a Powys railway crossing where a train hit a farm trailer have been criticised as "inherently unsafe".
Two passengers needed hospital treatment after the train collided with the trailer near Welshpool last July.
An accident investigation report pinpointed problems with the way vehicles movements across the line were managed by contractors.
A number of safety recommendations have been proposed.
There were 140 passengers on the Arriva Trains Wales service travelling between Shrewsbury and Aberystwyth and Pwllheli when the collision took place at Buttington on 16 July.
A Rail Accident Investigation Branch report said as well as the two hospitalised passengers, the tractor driver and two other people nearby suffered minor injuries in the collision which caused significant damage to the front of the train.
Harvest
On the day of the accident the farm crossing was being used by tractors bringing in a harvest from fields on the opposite side of the line to the farm.
The farmer had appointed a contractor to carry out the harvesting operation and an attendant had been provided at the crossing to phone the signaller and operate the gates.
The RAIB said: "The accident occurred because the system of work in use at the crossing was inherently unsafe leading to ineffective control of road vehicle movements over the crossing and frequent use of the crossing without the signaller being contacted.
"This system broke down."
It added that the harvest contractor did not implement an effective safe system of work at the crossing.
Listing a number of safety recommendations, the report also said that Network Rail's instructions to users of these crossings did not "adequately deal" with periods of intensive use.
Following its investigation, the RAIB has made three recommendations on the use of these type of level crossings:
A review of how risk levels are assessed, taking into account periods of intensive use of a crossing, such as at harvest time.
Defining "safe and practical" methods to be used at worked crossings like the one at Buttington, and ensuring they are clearly communicated.
The Rail Safety and Standards Board to review level crossing risk management measures for times of intensive use.
Responding to the report, a spokesperson for Network Rail said: "Network Rail takes safety very seriously.
"Since the incident, we have made changes to our process by defining a method of working for use when a user worked crossing is to be intensively used in their area.
"We will also review the report issued today and consider the recommendations made by RAIB."