Drefach war memorial relocation in £4.7m school plan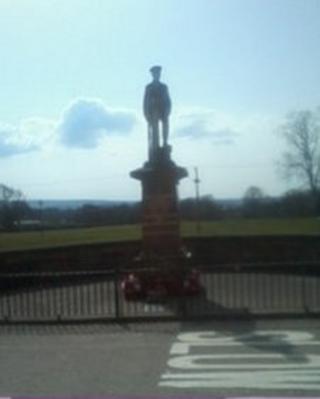 A war memorial will have to be moved as part of a £4.7m project to build a new primary school in Ceredigion.
A derelict pub in Drefach, near Lampeter, will also be demolished under the plan backed on by the county council's cabinet on Tuesday.
The new area school will replace three small primary schools in the county as part of a shake-up of education in the Lampeter area.
The local community council has welcomed the move.
Ceredigion council approved the closure of Cwrtnewydd, Llanwenog and Llanwnnen schools near Lampeter in September 2013.
It aims to build and open a new school in the village of Drefach by 1 January 2016.
Road improvements
A report by the council's head of economic development service, Allan Lewis, said the preferred location for the new school is in the centre of the village.
The report added that the relocation of the Grade-II listed memorial will be "carefully sited to feature as part of the design of the area school and safer conditions for Remembrance Sunday services".
Plans for access to the site include a £150,000 project to build a roundabout which will involve demolishing a derelict public house opposite the war memorial.
The report said "demolition of Tafarn y Cledlyn together with a highway improvement scheme and a safer route to the nearby play area could provide overall planning, safety and highway benefits".
The cabinet has also allowed officers, if necessary, to consider making compulsory purchase orders for land needed for the development.
The area's county councillor, Euros Davies, said the community council was in the process of taking over responsibility for the memorial from a group of trustees.
Geraint Hatcher, chair of Llanwenog community council, said members had voted to support the county council's proposals last week.
He added: "The war memorial is currently situated next to the main road which has made it dangerous to conduct Remembrance Day services in Drefach.
"The county council has asked us to suggest a suitable alternative location, which could be in the school grounds or entrance."
A Ceredigion council spokesman said: "The relocation of the war monument will be carefully sited to feature as part of the design of the area school, providing car parking and safer conditions for Remembrance Sunday services, and opportunity for local history learning.
"The local community will be consulted on a suitable alternative location for the monument."