Staff shortage closes Knighton hospital beds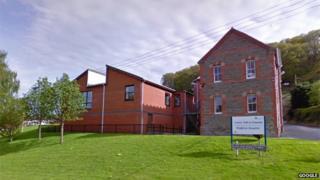 Knighton hospital has had to reduce the number of beds in its wards from 13 to seven due to a shortage of staff, Powys health board has said.
The community hospital, which offers services including rehabilitation and palliative care, is facing "significant nursing staff recruitment challenges".
Almost a third of its registered nursing posts are vacant.
The move has been criticised by local politicians. The health board said the closures were only temporary.
A spokeswoman for the board said: "We are currently facing significant nursing staff recruitment challenges in Knighton with a vacancy rate for Registered Nurses of just under 30% at present.
"The health board has therefore needed to take this step in order to ensure safe staffing levels and that high standards of care can continue to be provided.
"The health board has been, and will continue to, work hard to recruit to vacant posts. However we know that recruitment in many areas of England and Wales is particularly challenging at the moment."
Patients are being offered treatment through community services in Knighton or at beds in nearby hospitals.
Brecon and Radnorshire MP Roger Williams said: "This is a really worrying development. Those beds are much needed in the local community.
"I am frequently being told that Llandrindod hospital is under great pressure because of high demand. I am really disappointed that the Health Board has not planned its recruitment strategy better to solve these challenges."