Sun editor says 5/1 chance of opening office in Wales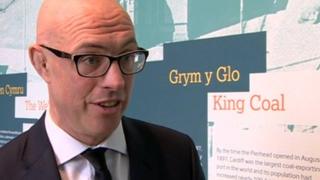 The editor of The Sun has told an audience of school pupils in Cardiff that there are odds of 5/1 on the paper opening an office in Wales.
The Sun does not currently employ any full-time staff in Wales.
David Dinsmore said Wales' two premier league teams and a devolved government were encouraging factors.
He was in Cardiff to promote the News Academy, an initiative by The Sun's publishers News UK to encourage young people to consider a journalism career.
Mr Dinsmore was joined by First Minister Carwyn Jones to take part in a question and answer session with invited school pupils at the Pierhead building in Cardiff Bay.
Mr Jones pointed out the existence of Scottish and Irish editions of The Sun, which prompted Mr Dinsmore to discuss the possibilities of a greater Welsh influence at the paper.
The Sun editor later told BBC Wales: "It's something we're always looking at. As I say, everything is under review.
"I think Wales has a lot to offer in terms of interesting coverage - a couple of Premier League teams, not a bad rugby team, certainly better than Scotland's, and a parliament.
"I think it's probably under-represented from that point of view but we need to do the sums and see if we are going to sell more papers as a result.
"I would like to think that if we could then yes we would."
Mr Dinsmore said he had edited The Sun in Scotland for five years so he knew "where Wales was coming from".
"I think it is hard when the London media is based in London so you tend to be influenced by what you see on your way to work... which is why it's important to have ultimately I suppose a Welsh office," he said.
The first minister told BBC Wales that there was a problem with some London-based newspapers showing a "real prejudice" against Wales.
"We have explained to them that unemployment in Wales is lower than in England, Scotland and Northern Ireland but that doesn't fit in terms of their perception of Wales," he said.
"I saw it in Bridgend a few years ago with the stories of the suicides.
"The stories that were going around then with Bridgend that it was a small seaside mining town, which it isn't any of those things, but that's what fitted with the prejudices of those writing the stories."
At the conference, Mr Jones expressed concern about the number of career politicians in Westminster and advised students to gain as much experience as possible before considering going into politics.
When asked by conference chair Guto Harri - Director of Communications at News UK - where that left his own party's front bench in Westminster, he said it was a "problem for all parties".
He said he did not think this was a problem at the assembly because so many politicians had done so many other things before standing for election.
'Greatest mistake'
News Academy has been established by News UK - the publisher of The Sun, The Times and The Sunday Times - and is aimed at teenagers who want a career in the media.
The launch in Cardiff was attended by students from 13 schools and colleges.
Mr Dinsmore responded to questions from students and was asked why The Sun continued to print pictures of topless women on page three.
He said the majority of the paper's readers liked them and he would only consider removing the images if that support fell to a minority.
Mr Dinsmore was also asked about The Sun's coverage of the Hillsborough football disaster which he said was "probably the greatest mistake in The Sun's history".
He said the paper was "still feeling the fallout from it" 25 years later.
In 2012 the former editor of The Sun Kelvin MacKenzie offered "profuse apologies to the people of Liverpool" for blaming fans for the Hillsborough tragedy, in which 96 people died.