Ceredigion plan to close primary schools a step closer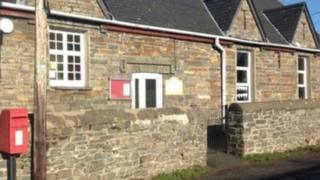 Groups opposing primary school closures in Ceredigion have vowed to lobby councillors before a crunch vote in June.
The county council's cabinet decided to support a move to close four primary schools on Tuesday.
It also decided to back a plan for an expanded Tregaron secondary school providing education from the ages of 3 to 16.
But the final decision will be made by all 42 council members in June.
Councillors voted to take over responsibility for school closures from the cabinet in January.
Officers recommended closing Dihewyd, Trefilan and Llanafan primary schools after a consultation which ended on 28 February.
'Strong hand'
Another consultation resulted in officers supporting closing Llanddewi Brefi primary school and moving Tregaron primary school children to an expanded Tregaron secondary school providing education from the ages of 3 to 16.
If councillors agree to close the schools in June they will shut doors for the last time at the end of the summer term.
But groups opposing the closures say they now have more than two months to convince councillors to keep schools open.
Hywel Glyn Ifans, a campaigner for 21-pupil Dihewyd primary school, said: "We will ask every councillor to be answerable to their decision in June and we will be lobbying them to keep the school open.
"Now is the time for us to show we have a strong hand of cards and provide winning arguments such as our favourable recent Estyn report to overturn the cabinet's decision."
Byron Jenkins, chair of Llanafan School Group, which is campaigning to keep the school with 24 pupils open, said: "Today's result was a foregone conclusion.
"We will be lobbying councillors and hope they see sense by the time they vote in June."
The council is restructuring primary education, saying there are 1,000 fewer children in Ceredigion than a decade ago.