Lampeter-based archaeologists reveal Qatar's historic sites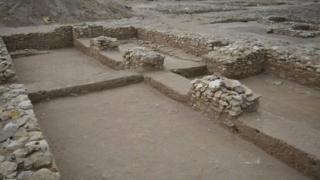 Experts from a Welsh university are helping a Gulf state reveal the secrets of its past through a major international project.
A team led by Lampeter-based archaeologist Andrew Peterson has targeted Islamic period sites in Qatar.
The Wales Qatar Archaeological Project has so far unearthed two sites which given an insight into the country's rich history.
An unmanned aerial vehicle (UAV) is now being used to carry out survey work.
Dr Petersen, from University of Wales Trinity St David, first travelled to Qatar in 2008.
His visit coincided with a decision by the Qatar Museum Authority (QMA) to begin a series of archaeological investigations into ancient sites.
'Rich history'
This was the catalyst for the creation of the joint project.
Dr Petersen said: "On a tour of the archaeological sites in northern Qatar, I was immediately struck by the density of the occupation along the coast and saw the potential of a targeted excavation programme.
"So far two sites have unearthed a rich history of the state.
"The excavation of a site called Ras 'Ushairiq uncovered a large settlement called Rubayaqa which revealed several large courtyard homes, a mosque and two cemeteries.
"Finds from the site were as diverse as iron cannon balls to wooden chess pieces and large quantities of ceramics.
"A second site called Ruwayda has revealed the remains of a town which was dominated by a large fortress.
"It includes a mosque complex, workshops and warehouses and a tomb.
"Other finds, such as ceramics, indicate long-distance trade with nations such as China, Oman, Iran and India," the archaeologist added.
Oil revenue
Britain has a long relationship with Qatar dating from the mid-19th Century extending through the decades of Ottoman Empire rule, which lasted from 1872 until the outbreak of World War One in 1915.
Sheikh Abdulla bin Jassim Al-Thani then become Qatar's ruler.
He signed a treaty with Britain agreeing not to dispose of land without British consent and, in turn, Britain guaranteed to protect Qatar from outside aggression.
During the mid-20th Century increasing oil revenue made Qatar a prosperous country and it declared its independence in 1971.
Analysis of the historic sites has been enhanced with the award of a Qatar National Research Fund Grant, allowing the use of an unmanned aerial vehicle (UAV).
It allows 3D terrain models to be generated and is able to support the creation of high-resolution maps of the sites under investigation.