Aberystwyth gears up for tourist season after storms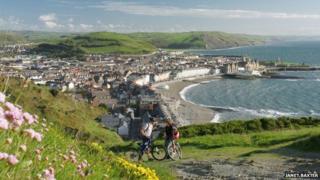 Businesses affected by the storms that hit Aberystwyth earlier this year are gearing up for the summer season.
Ceredigion council aims to repair the town's promenade before the Easter holidays.
It has also launched a £50,000 newspaper, radio and television campaign to promote the message that tourism operators are back in business.
The total cost of repairing the storm damage in Ceredigion is estimated at more than £1.5m.
The opening of the Cliff Railway on the town's Constitution Hill overlooking the promenade is traditionally seen as marking the start of the tourist season.
Against the clock
Visitors have been transported up and down Britain's longest funicular electric cliff railway since 1896.
It has received an overhaul in the last few weeks with a £30,000 project to refurbish the railway's station roof.
Contractors have also worked on a £9,000 scheme to replace the motor which has pulled the railway's carriages for the last 30 years.
"We are working against the clock to get the new motor up and running before we open on Saturday morning," said Alun Davies, the manager of the railway which was used by 50,000 people last year.
"We are crossing our fingers that we can open on time."
'Better weather'
Chris Mackenzie-Grieve, chairman of Aberystwyth Chamber of Commerce, said businesses were feeling upbeat about their prospects this summer.
"The Easter holidays fall in late April this year which should mean we will benefit from better weather," he said.
Ceredigion council's £50,000 marketing campaign which is launched on Monday will include advertisements in Welsh and English newspapers, as well as television and radio adverts.
A council spokeswoman said the two-month-long TV campaign on S4C is expected to reach 1.7m people.
The local authority would also place adverts in magazines and newspapers in south Wales and the Midlands to try and boost tourism, she said.
The move comes after Aberystwyth hoteliers had called on the council to promote businesses suffering from dwindling visitor numbers.
In January, the Welsh government announced Ceredigion council would receive £560,000 towards the costs of damage repair.
The funding was anticipated to support tourism-related infrastructure projects in Ceredigion.