Windfarms and pylons' 'limited' impact on Welsh tourism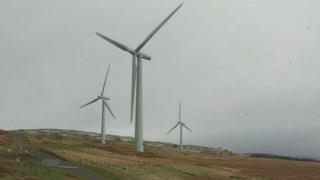 A new report claims onshore windfarms and pylons in Wales have a limited impact on the nation's tourism industry.
The study found "a clear majority" of people did not change their visiting behaviour as a result of windfarms.
But it concludes there is a risk that some future windfarm developments could have a "minor or moderate" impact on local visitor economies.
It added that Wales is likely to suffer from displaced tourism.
A Welsh government spokesman said the majority of visitors are "positive or indifferent" about wind farm development.
The report was commissioned by the Welsh government last October following a recommendation by the Welsh Assembly's Environment and Sustainability Committee.
It focused on nine study areas and three case studies in Neath Port Talbot and Rhonnda Cynon Taf, north Anglesey and north Powys.
Local landscapes
A hotel in Welshpool, north Powys, is currently hosting Britain's biggest ever public inquiry into wind farms.
It has been hearing arguments for and against wind farm applications at Llanbadarn Fynydd, Llaithddu, Llandinam, Llanbrynmair and Carnedd Wen and an application for a 132kv overhead line to serve the Llandinam project.
The plans would include pylons to link the turbines to the network in Shropshire.
The report found that the north Powys visitor economy "is more at risk to wind farm developments than many other parts of Wales".
It added that business concerns about the effect of future developments on the changes to local landscapes "could materialise if all planned developments were to proceed".
Montgomeryshire Conservative AM, Russell George, said: "As I suspected, pylons and onshore wind farms do have a negative impact on the tourism industry.
"Local economies across mid Wales face a hammer blow from the additional infrastructure that comes with wind farms and the potential for tourism displacement is huge.
"Yet instead of standing up for the rights and views of local people, the Welsh government continues to stubbornly standby its TAN 8 planning guidance which has encouraged developers to mid Wales."
A Welsh government spokesman said: "Russell George appears to have misunderstood the report's findings. As stated in the document, the independent study found the current scale of wind farm development in Wales has had a negligible impact on our tourism sector.
"The study focused on areas where wind farms have been established for a relatively long time, such as Powys, Anglesey and the south Wales valleys and did not find any evidence of a significant impact on tourism.
"Local studies also showed that the majority of visitors are positive or indifferent about wind farm development and the vast majority of consultees believed there had been no impact on total visitor numbers and the local economy."