Artist appeals for spanners to put into her work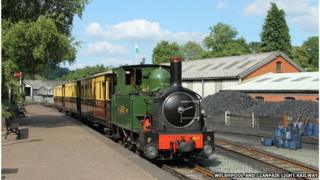 An artist is looking for people to donate 250 spanners for an artwork that is destined to adorn a mid Wales town.
Saffron Waghorn has been commissioned by Welshpool Town Council to create a £25,000 sculpture based on steam engines that once ran through the town.
But the artist is asking locals to provide 250 spanners to complete the landmark in style.
The project is expected to be completed by the end of July.
The money for the scheme was provided as part of the town's Tesco superstore development.
The sculpture will be erected near to the town's Tourist Information Centre which was once on the train route through the town between the Raven public house and Smithfield market.
The Countess
Welshpool Town Council's clerk, Robert Robinson, said the landmark would celebrate the Welshpool and Llanfair Light Railway which operated a service into the town between 1903 and 1956.
He said: "The train will look as if it is coming out of the ground with a third of the sculpture being under the ground.
"It will also have the names of the engines which were used on the line, station names, and the 50th anniversary emblem of the Welshpool and Llanfair Light Railway."
The 8.1m-long artwork is being created by Saffron Waghorn with the help of Year 10 pupils at Welshpool High School.
Ms Waghorn said the part of the metal and stone sculpture made from spanners would be welded together to form the engines's cab.
"It will represent the efforts of the Welshpool and Llanfair Light Railway Preservation Society and its volunteers who took over the line in 1963," said Ms Waghorn. "The engine will be an amalgam of the trains that used the line including the Countess which was one of the first trains used on the line in 1903.
"People can drop off their spanners at the town council offices, and parents of children who attend the high school can leave them there."