Hay and District Dial-a-Ride thrown £25,000 lifeline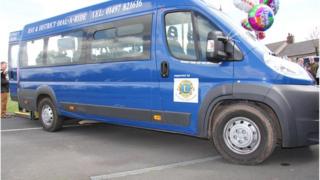 A transport charity that provides more than 6,500 passenger journeys a year has been thrown a lifeline which will allow it to continue the service.
Hay and District Dial-a-Ride has been given a £25,0000 cash injection by donors to allow it to replace its mini bus.
About 20 volunteer drivers provide bus and car services to 250 members in a nine mile (14.5km) radius of Hay-on-Wye.
The service has run since 1994.
Secretary to the trustees of Hay and District Dial-A-Ride, Katharyn Hainge, said the donations had helped to pay £36,000 for a new minibus.
"We've managed to keep our heads above water over the years but we've desperately needed a new bus for quite a while," she added.
"Unfortunately we didn't have the money to pay for it until now."
The money given to the charity included £20,000 from a single donation and £5,000 from the Black Mountain Lions.
Last year the charity provided more than 600 journeys for people to attend GP appointments as well as other services including transporting the elderly and infirm.
"This important service wouldn't be possible without the hard work of the volunteers who gave more than 5,000 hours of their time last year," said Mrs Hainge.