Newtown dirty streets "will put off visitors" claims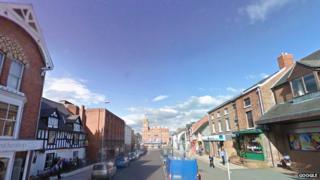 The "dirty" and "poorly maintained" streets of a Mid Wales town could affect its tourist trade claims a local councillor.
Joy Jones has called on Powys council to improve its services to keep the streets of Newtown clean.
The county councillor claims tourists would be put off by seeing the town centre full of rubbish and weeds growing on side streets.
Powys council said it was looking to improve the situation.
Mrs Jones, whose ward covers the town centre, said she was shocked by the poor state of the town centre.
She added: "The gutters are full of rubbish, there are weeds growing through cracks on the side streets, and the town centre streets are dirty.
'Budget reductions'
"I know the council's road sweeping machine had been out of action for a couple of weeks but the authority has to address this problem because tourists will be deterred from coming to Newtown."
Powys council aims to make £40m in savings to plug its budget deficit over the next three years.
"I know that road cleaners are often transferred to work on refuse collections because the council can't afford to spend as much money on street cleaning," said Mrs Jones.
"Newtown is a popular holiday destination but nobody will want to visit here unless something is done to improve these poorly maintained streets".
Richard Hobbs, The council's head of Highways, Waste and Recycling said: "We are aware of the concerns and looking at what service changes can be implemented to improve the situation.
"However, the council is facing significant financial challenges with budget reductions and it is inevitable that there will be some service changes."