Wales' National Library launches plan one year after fire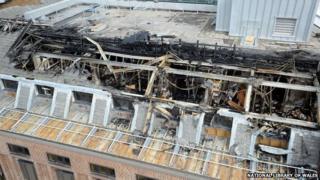 The National Library of Wales' chief executive has set out new plans for the institution a year after a fire destroyed archives there.
Aled Gruffydd Jones launched a three-year strategy twelve months after the fire caused £5m of damage to the library's roof.
Proposals include leading a debate on establishing a National Archive for Wales.
It also aims to develop projects with the public sector.
Mr Jones told staff the plan gave them a chance "not only to look back", but also an opportunity "to look forward".
He added: "Our vision is for Welsh people everywhere to be connected with knowledge important to all aspects of their lives."
'Chief challenge'
The the "Knowledge For All" plan signalled a "significant strategic repositioning" for the 107-year-old institution, he added.
Its main objectives are to:
Develop the conservation and digital preservation service for Wales' documentary heritage project
Develop a community partnership programme with partners in the public sector
Lead a national debate on the potential for establishing a National Archive for Wales
Mr Jones said: "Since its establishment in 1907 the National Library of Wales has developed and maintained national collections relating to Wales, the people of Wales and other Celtic nations.
"Our chief challenge during the next three years will be to bring together as many people as possible to engage with our collections, and to do so in new ways for a wide variety of purposes."
An investigation found that the fire that damaged the library's roof and upper floors on 26 April, 2013 was started accidentally.