Original Chaucer manuscript in Aberystwyth goes online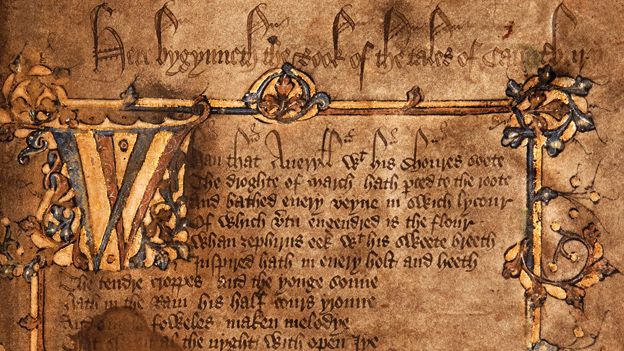 More than 600 years ago poet Geoffrey Chaucer died without completing his greatest masterpiece, The Canterbury Tales.
A collection of more than 20 stories written in Middle English in the 14th Century, they show the best and worst of human nature with a humorous touch.
And the earliest manuscript containing his work has been kept at the National Library of Wales in Aberystwyth.
Now the priceless collection has been published online for the first time.
The famous manuscript was written by Adam Pinkhurst, Chaucer's very own scribe.
"It is a continuous source of astonishment and pride to me that one of the treasures of English literature is housed here in Wales, and at the national library," said chief executive Dr Aled Gruffydd.
"The presence of this masterpiece underlines the status of this institution as a centre of international importance for research and knowledge. It is with delight that we share these new digital images with our global users."
The early manuscript, the so-called Hengwrt Chaucer, reflects the earliest attempts to circulate his tales in London.
Dr Sue Niebrzydowski, of Bangor University's School of English, said: "It has been an absolute pleasure to have been involved in a project that has made such digital images of this important copy of Chaucer's Canterbury tales freely available to all.
"Chaucer's tales, told by an interesting assortment of tellers, hold something for everyone. The stories range from tales about mechanical brass horses, to chickens who act as if they were knights and ladies, and, very appropriately for Aberystwyth this year, making coastal rocks disappear in extremely high tides."
Related Internet Links
The BBC is not responsible for the content of external sites.