Criggion museum bid for ex-WW2 and Cold War centre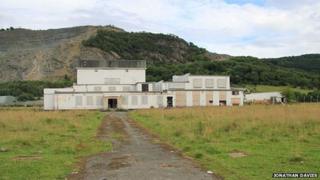 A group that wants to turn a former secret World War Two and Cold War naval communications centre in Powys into a museum said it could help regenerate the area's economy.
The Criggion radio station near Welshpool shut a decade ago and BT's site lease ended on Wednesday.
The station's owner, Telereal Trillium, has decided to sell the property in four lots.
Four bidders have been shortlisted by the company.
It said the sale of the four lots should be completed by the end of June.
Shrewsbury-based estate agents Balfour, which is handling the sale for Telereal, said each of the four bidders had put in offers for one separate lot each.
'Visitor attraction'
County councillor Graham Brown, who is a member of a group that wants to develop part of the site into a museum to commemorate the communication centre's role in World War Two and the Cold War, said: "The Criggion station has been left to rot since it was decommissioned 11 years ago.
"We developed an idea to create a community interest company to develop the buildings into a visitor attraction, museum, and education centre to preserve this historical site and regenerate the area's economy."
For 60 years the Criggion station and its three 700ft (210m) radio masts and three 600ft (180m) towers were a part of the scenery near Welshpool on the Powys/Shropshire border.
Built in 1942 it was used during WW2 to keep the Admiralty in contact with Royal Navy ships around the world.
When the war ended the site became a signal relay station for nuclear submarines during the Cold War, as well as for overseas telephone communications.
The Omega project developed at Criggion in the late 1950s was a forerunner of the GPS system.
The station closed in 2003 and the masts were demolished, but the 10 or so buildings were leased from Telereal Trillium by BT.
Mr Brown said: "Structurally, the buildings are sound as they are bombproof but the investment needed for a visitor attraction would be immense."
Museum bid
A Telereal Trillium spokesman said: "Following marketing of the site all interested parties were asked to submit bids by 11 April 2014.
"Over 10 submissions of interest were received including a number of bids from members of the local community.
"Four bidders have been shortlisted and the sales should be completed by the end of June 2014.
"The shortlisted bidders have a variety of plans for the site, with one party intending to create a museum.
"This process will allow it to be brought back into use so that it can once again make a contribution to the local community."