Lily Millward: Second ex-oldest twin dies aged 104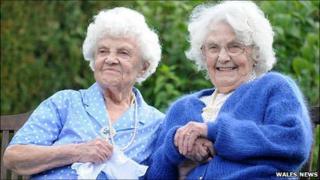 One of the world's oldest twins has died just three months after her sister.
Lily Millward, who was 104 and from Brecon, died of pneumonia after her twin Ena Pugh, from Erwood, near Builth Wells, passed away in January.
They were born before the outbreak of World War One and were named the world's oldest in 2010.
The twins were close and still met for weekly shopping sessions after their 100th birthdays.
Lily's daughter Diana Powell, 68, said: "They were very close and used to speak on the phone every day. Losing Ena upset my mum and I know she felt a bit lonely without her twin."
The farmer's daughters were born on 4 January 1910 when Queen Victoria's son Edward VII was king.
Laughs and jokes
Up until last year they lived in the own houses and met for weekly shopping sessions and a cup of tea at their favourite cafe.
They put their long lives down to "laughter and having a joke with each other".
But Ena died just two days after their 104th birthday and Lily was unable to attend the funeral because she was in hospital at the time.
Mrs Powell said: "My mother was still living independently in her own home before being admitted to hospital 10 days before she died.
"I know she thought a lot about Ena over the last few months but she was quite strong and would keep it to herself."
The twins made headlines across the world in 2010 when they were named in the Guinness Book of Records as the world's oldest living twins when they reached 100.
But they lost their record just a short time later when Scottish sisters Edith Ritchie and Evelyn Middleton came forward and were found to be two months older.