Machynlleth school named after Glyndwr battle opposed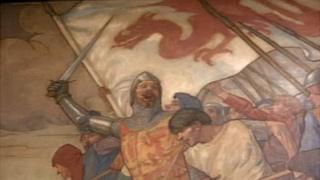 A campaign by pupils of Machynlleth's secondary school against the name chosen for the town's new super-school has been backed by the town's council.
Governors of the new combined primary and secondary education site decided to call it Ysgol Bro Hyddgen Machynlleth.
Hyddgen is where Owain Glyndwr is said to have won his first significant victory in his uprising in 1401.
But pupils of the current Ysgol Bro Ddyfi launched a petition and posted a Facebook video opposing the name.
They claimed that Hyddgen is is several miles to the east of Machynlleth on the Plynlimon range of the Cambrian Mountains, and has no connection with Machynlleth or the Dyfi Valley.
Governors insisted that the new name of the school would not be changed after talking to a deputation of pupils.
Parliament
The name Hyddgen is already familiar locally and was chosen for Canolfan Hyddgen, the Dyfi Valley's post-16 education and training centre which opened in 2009.
Allan Wynne Jones, chairman of the super-school's governing body, said he had asked the council's clerk to address councillors at its next meeting to explain the reasons for the school's name.
He said: "We didn't want to continue with the name Bro Ddyfi because we didn't want to make it seem that the high school was taking over the primary school.
"Calling the school Dyffryn Dyfi would have been misleading because it would not have been relevant to the primary school."
"Hyddgen was chosen because this was Glyndwr's first significant victory which allowed him to develop his vision for Wales.
"The name symbolises that we not only create citizens for the Dyfi Valley but to send them out to the wider world."
The Powys town is where Owain Glyndwr established his first parliament in Machynlleth in 1404.
But Machynlleth's deputy mayor, Dai Speake, said, the council had decided to support pupils' stance by writing to the new school's governing body and Powys council's cabinet member responsible for education outlining its concerns.
He added: "Councillors are passing on the concerns of the public that Hyddgen is a good 10 miles away from Machynlleth.
"They agreed that the current school name should be kept and they are worried about the cost of changing the uniform."
Mr Jones has asked to speak to councillors at its next meeting at the end of May.