Governors fight Whitton school closure decision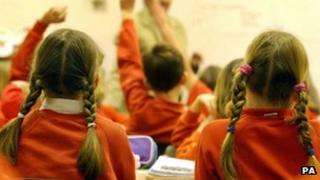 Governors of a school that has been open for nearly 300 years are to ask the Welsh government to overrule Powys council cabinet's decision to close it.
Whitton Primary School's governors claim a council report that recommended axing the 27 pupil school was "full of inaccuracies".
They are to write to Education Minister Huw Lewis outlining their case.
Powys council said it acknowledged there were "scant financial benefits" to closing the school.
Its cabinet has decided to close the school, which claims to be the oldest non-denominational aided school in England and Wales, in the summer.
The council's policy is to review the future of any school with fewer than 35 pupils.
'Inaccuracies'
Dame Anna Child's Endowed School Trust has financially backed the school, based between Knighton and Presteigne, for three centuries.
It opened in a barn in the village in 1724 after Dame Anna Child, who died in 1703, bequeathed £500 to set up a trust to pay for a schoolmaster to teach the children of Whitton and Pilleth.
The trust had offered to pay £120,000 over three years to reduce pupil costs to the county average.
Graham Skipworth, the school's chair of governors, said: "The report presented to cabinet contains a number of inaccuracies, incorrect facts and is not a truthful report.
"The sole reason given for the recommendation to close the school is to ensure sustainable high quality education provision.
"None of the parents or pupils agree with this.
"It is the immediate intention of the trust and governing body of the school to send a report and letter of complaint to the Welsh education minister."
Myfanwy Alexander, Powys cabinet member for education, said: "It is never an easy decision to close a school but the low numbers at Whitton School gave us concerns about its ability to provide a comprehensive educational experience to those pupils."
"We acknowledge that there are scant financial benefits to this proposal, but it is our duty to ensure that all our pupils receive the highest quality education.
"We are confident that Presteigne Primary School, which has been graded as a good school by Estyn recently, will be able to provide this."