Powys community groups to take over six village halls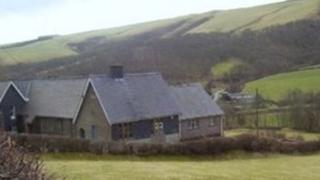 Six village halls in Powys facing a near £1m repairs bill will be transferred from county council ownership to "ease the financial pressure" on the authority.
Powys council's cabinet agreed to hand them to management committees which will be allowed to apply for funding to cover the costs.
Local groups have welcomed the move.
The council has to plug a budget gap of £40m over the next three years.
One of the six halls being transferred to the community is Knucklas Community Centre, near Knighton, which was rebuilt with Welsh government financial backing last year.
Avril Hoyle, of Beguildy Community Council, said: "This is a good move because it will enable the community to pull together to look after the hall.
"But our problem in the future will be the cost of maintaining the hall."
Bernard Atkins, of Llywel Community Council, said the local community was ready to take over Trecastle Community Hall for the local authority.
"We've been waiting for this decision for three years and think we can do a better job in looking after the hall than Powys council," he said.