Cardigan residents' council maladministration claim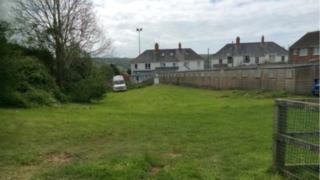 Campaigners opposing plans to build on a Cardigan community park will write to the local government Ombudsman to complain that Ceredigion council has mishandled the application.
North Cardigan Action and Support Group are opposing a housing association's plans to build nine housing units of land surrounded by several estates.
They claim the council has lost files relating to the application.
Ceredigion council has admitted a file "was misplaced".
The Welsh government has already called the application in for decision by a planning inspector after Tai Ceredigion claimed Ceredigion council were taking too long to make a decision.
Tai Ceredigion wants to demolish nine garages to build a four-bedroom house, two three-bedroom houses and six one-bedroom flats on the parkland, which locals claim has been used for recreation by residents of several estates and streets in the north of the town for the last 50 years.
'Maladministration'
More than 370 locals have written letters of objection to the plans.
Gwyneth Morris of North Cardigan Action and Support Group, said: "We are furious the council has lost files we had submitted as part our opposition to the plans.
"We are now preparing evidence to send to the Ombudsman to support our claim of the council's maladministration."
A Ceredigion council spokesman said: "Unfortunately, the planning application file was misplaced.
"However, it should be noted that all the original consultation responses, including the hundreds of objection letters and petitions submitted by local residents, were not lost as these were retained within a separate file.
"The planning application file has now been made up again by reprinting all the relevant plans, supporting documents and statutory consultee replies, all of which were saved electronically by the department."
'Waiting list'
Tai Ceredigion has been refused planning application to develop the park three times since it took over the land from Ceredigion council in 2009.
Llyr Edwards, Tai Ceredigion's property services director, said; "The planning committee report notes there are more than 150 people in the Cardigan area on the council's waiting list at the moment.
"This project is an important part of Tai Ceredigion's strategy to fulfil this need and to help people attain homes suitable for their needs."
Maseglas locals have also submitted an application to register the park as a village green in a bid to stop the land being built on.