Lampeter regeneration ideas to revive town economy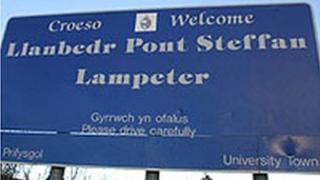 A development officer could be appointed to turn around the fortunes of a Ceredigion town suffering economic problems.
It is one of the ideas mooted at a meeting between business leaders and politicians in Lampeter.
The town's Chamber of Trade set up the brainstorming session after a number of the town's shops closed in the last six months.
An action group has been set up to develop possible projects.
'Ghost town'
Lampeter Chamber of Trade chair, Josie Smith, said needed to be done to attract visitors to help local businesses.
She added: "A number of shops have shut during the last six months so we decided to set up the meeting of about 50 interested parties to show that Lampeter isn't a ghost town.
"Among the ideas suggested to improve trade were more use of social media such as Facebook and Twitter and improved signage so that people visiting the town know where to park.
"It was also suggested we could prepare an application for funding a town development officer."
The first meeting of the action group will be held on 13 June.