War poets' comrade rare photos found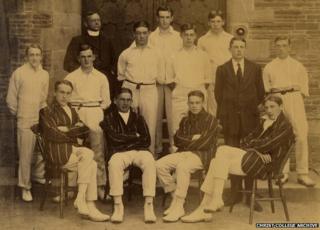 Lost photos of a soldier who fought alongside World War One poets Siegfried Sassoon and Robert Graves have been uncovered by his old school in Powys.
David Cuthbert Thomas, killed by a sniper at the Somme at the age of 20, inspired some of their greatest work.
The photos found at Christ College, Brecon, include long-lost images of him in school cricket, hockey and rugby teams just months before war broke out.
They have been published online as part of WW1 centenary commemorations.
Christ College archivist Felicity Kilpatrick said Thomas became friends with Sassoon after meeting at military training in Cambridge in 1915, serving with Graves in the Royal Welch Fusiliers.
She said Thomas had kept his reputation as a sportsman.
"Some of Sassoon's poems reference him as a cricketer, including in his poem The Subaltern which was published just a week before Thomas was killed by a sniper's bullet," she said.
"Until now there have been no known photographs of him as a young sportsman so we are thrilled to be able to release these for the enjoyment of all those who are interested in David Cuthbert Thomas and Siegfried Sassoon."
Thomas, serving as a young officer, was shot in the neck on the night of 18 March 1916 as he repaired barbed wire lines in No Man's Land near Fricourt.
The next day Sassoon wrote: "Tonight I saw his shrouded form laid in the earth - Robert Graves beside me with his white whimsical face twisted and grieving.
"Once we could not hear the solemn words for the noise of a machine-gun along the line; and when all was finished a canister fell a hundred yards away and burst with a crash.
"So Tommy left us, a gentle soldier, perfect and without stain. And so he will remain in my heart, fresh and happy and brave."
In his war novel Goodbye To All That, Graves wrote that the death of Thomas angered Sassoon so much he went out seeking revenge.
"I felt David's death worse than any other since I had been in France," Graves wrote, "but it did not anger me as it did Siegfried.
"He was acting transport-officer and every evening now, when he came up with the rations, went out on patrol looking for Germans to kill.
"I just felt empty and lost."
Graves also wrote about Thomas in the poems Goliath and David, and Not Dead.
The rediscovered photos can be seen on the People's Collection Wales website.