National Library management 'no confidence' threat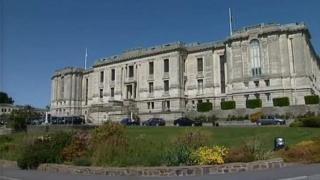 National Library of Wales workers have threatened to pass a motion of no confidence in the institution's management.
The move comes after the library's board gave two members of the executive team responsibility allowances equal to a 10% payment.
It comes as unions are unhappy more than 200 of their members have not had a consolidated pay rise since 2009.
The library and unions are set to hold crunch meetings in June.
The National Library said it was aware of dissatisfaction amongst some union members at present.
Members of unions, Prospect Cymru and the Public and Commercial Services Union (PCS), also claim some of the lower paid staff employed by the institution do not earn a living wage.
'Aggrieved'
According to Prospect Cymru its members were told last week the library's board had decided that two members of the executive team will receive the 10% allowance.
The National Library has confirmed that a possible responsibility allowance for a third member of the executive team is currently being processed.
A Prospect Cymru spokesman said its 170 or so members felt that management - consisting of the library's board and chief executive Aled Gruffydd Jones - were not treating all staff equally and there was no transparency in its decision making.
She said members were aggrieved, adding: "In February we were unable to support the most recent pay offer because it did not deliver the living wage.
"Last week all staff received an improved pay offer and we will meet with the National Library of Wales at the beginning of June to discuss this offer and recent changes to the executive team."
Income reduction
The 60 members of the PCS union who work at the institution intend to ballot its members on passing a motion of no confidence in the library's management.
A PCS spokesman said: "The library's decision has angered our members and shows a serious lack of judgement on behalf of senior management at the library.
"The library should address these basic pay issues in conjunction with Welsh government before dealing with executive pay."
The library's annual accounts for 2012-13 show that the three members of the executive team at that time serving below the then chief executive, Andrew Green, earned about £62,000 that year.
Mr Gruffydd Jones, the institution's librarian and chief executive, said: "The library is aware of dissatisfaction about matters amongst some members of the library's trade unions at present including the living wage and restructuring the establishment to do its work more effectively."
In December Mr Jones appealed for money from the public to dampen the effect of a cut to its grant from the Welsh government.
He said the library faced a £1.2m income reduction over two years.