David Joseph family: Diabetic care action a 'let-down'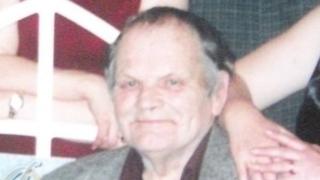 The care of diabetic patients in Welsh hospitals must be improved urgently according to the family of a man who died as a result of failures in 2008.
The family of David Joseph, 80, said pledges made by health care inspectors in the wake of their father's death had not been kept.
Monitoring failures contributed to his hypoglycaemic attack and he later suffered a heart attack.
Heath Inspectorate Wales (HIW) admitted progress on improvements was slow.
Mr Joseph was admitted to Aberystwyth's Bronglais Hospital in December 2008 and he died the following April.
An ombudsman's report into his treatment at Bronglais concluded that he was "let down" by the health service and that the failings in his care contributed to his deterioration and eventual death.
Mr Joseph's daughter, Amelia Bertram, said HIW had promised changes to its inspection regime for diabetic care and to produce a report on the all-Wales implications.
"Two weeks ago we met up with the new chief executive to catch up on where they are with that work which they had every intention of doing," she said.
"I think it's disappointing… they set their own objectives and we agreed with them, and the implication was that they'd go and do the work… and I feel it's been a bit of a let-down."
A spokesperson for HIW said progress had not been as fast "as any of us would have liked".
"However, it is important to ensure that the approach we take is robust and credible if our findings are to be used to support improvement," said the HIW official.
New data from the National Diabetes Inpatient Audit looking at patients in Welsh hospitals in September 2013 showed about a third experienced some problem with their medication during their stay.
'Frustrating'
Diabetes Cymru's policy manager Jason Harding said the figure was quite worrying.
"It's frustrating too, because we know we can adopt certain practices which improve this situation, but it's only happening in certain areas," he said.
There are about 170,000 diabetics in Wales. They make up about 15-20% of the hospital population.
In Mr Joseph's case, Wales' public services ombudsman found failures by Bronglais hospital, which is run by Hywel Dda Health Board.
HIW met Mr Joseph's family in 2012 after the ombudsman's report into their complaints was published.
At that time, then chief executive Peter Higson said there were "lessons for every hospital and health board in Wales" arising from the case and that this should be a priority.
Now HIW says it wrote to the Hywel Dda board in September 2013 requesting an update on the progress it had made on the ombudsman's recommendations but has not had a reply.
The health board said it was "unreservedly sorry" for the failings in the care provided to Mr Joseph.
It added it had introduced the Think Glucose initiative and improved how it educates staff in diabetes care.