NRW signs £20m larch tree contract with Powys sawmill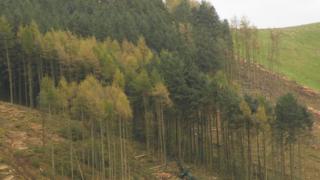 A £20m contract will see a Powys sawmill supplied with larch trees felled because of disease.
Natural Resources Wales (NRW) will provide the trees to BSW Timber at Newbridge-on-Wye over 10 years
NRW said more than two million larch - a third of those infected - have been felled to slow the spread of phytophthora ramorum.
The timber will be turned into products which will generate an estimated £100m to the Welsh economy, it said.
Some 600,000 cubic metres of trees will be supplied to BSW.
Since phytophthora ramorum was first identified in Wales in 2010, more than 6,000 hectares (15,000 acres) of woodland trees have been infected - roughly six million trees.
More felling is planned in areas such as Cwmcarn Forest.
'Vote of confidence'
NRW said it had managed the supply of trees carefully to avoid flooding the market and was also working to get the felled larch accepted for building new homes.
Trefor Owen, NRW's director for national services, said the contract would "make a major contribution to dealing with the harvesting and marketing of larch in Wales which we have to fell".
"We are also in the process of agreeing further contracts within Wales to ensure we maintain a reliable supply of timber to the industry."
BSW Timber chief executive Tony Hackney called the contract a "significant vote of confidence".
"Increased capacity will mean more shifts and more jobs for the area, and the 10-year supply guarantee will allow us to continue to invest in developing the site, reinforcing our pledge to maximise our supply and production of home-grown timber," he said.