'Incredibly important' medieval find at Llanllyr, Ceredigion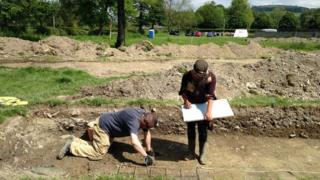 Archaeologists says they have discovered an "incredibly important" medieval convent, cemetery and Tudor mansion in Ceredigion.
The location of Llanllyr nunnery in the Aeron Valley had been a mystery until now.
Dr Jemma Bezant from University of Wales Trinity Saint David (UWTSD) said it offered an unparalleled opportunity to find out more about monastic life.
The public were able to view the site on Saturday.
Dr Bezant said: "Medieval nunneries like this are incredibly rare with only one other known in Wales."
The convent, founded by Lord Rhys ap Gruffudd in 1180, was a daughter house of the Strata Florida abbey, a former Cistercian monastery which was of immense importance to Wales during the Middle Ages.
Also the subject of a major University of Wales Trinity Saint David research project, the Strata Florida ruins lie just to the east of the village of Pontrhydfendigaid, near Tregaron in Ceredigion.
The archaeologist said they were still aiming to locate a medieval chapel at the excavation site and learn more about the extent of the cemetery using 18th Century estate maps and a 17th Century depiction of the mansion as a guide.
She said: "The discovery of the grave features is very exciting but it is unlikely that skeletal material remains in the acidic west Wales soil.
"If we are able to recover such fragments, they could tell us about who was buried here, how many lived on the estate and what kind of lives they led."
Members of the Dyfed Archaeological Trust are also involved in the excavation. They are being assisted in the work by university students, countryside management students at Coleg Ceredigion in Aberystwyth, and community volunteers.
Their discoveries so far have led to important clues about how the nuns lived, said Dr Bezant.
The convent was on the edge of a wetland valley floor that was drained and improved although watery places were likely to have held continuing spiritual significance to both the nuns and pilgrims, she said.
"We know the nuns farmed sheep and cattle successfully and they would have tended mills, orchards and fishponds.
"There are medieval fairs nearby at Talsarn and Llanerchaereon and they could have been trading far and wide, with coastal access only a couple of miles away at Aberaeron.
"We have already recovered fragments of sumptuous glazed floor tiles indicating that the nunnery was lavishly built and decorated."