Red squirrel officer Becky Hulme appointed to mid Wales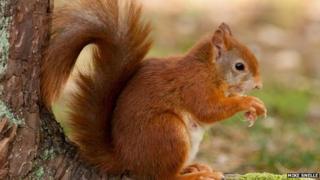 A new officer has been appointed to help protect red squirrels in mid Wales.
Becky Hulme will help co-ordinate and attract new volunteers within the Red Squirrel Conservation Zone at Tywi Forest.
They will carry out surveys of the species and monitor the threat of grey squirrels, which carry a poxvirus fatal to reds.
The forest is home to one of Wales' few remaining populations of the species.
Red squirrels, once common and widespread across the UK, are under threat due to a loss of habitat and the threat of the much larger grey squirrel.
Introduced in the UK in 1870s from the United States they now outnumber the red squirrel 66-1, leaving them without enough to eat.
They are also carriers of squirrel pox disease, which is fatal to the reds.
Miss Hulme said the survival of the species was dependent on the involvement of residents and landowners.
"Ten years of research by the Mid Wales Red Squirrel Partnership have shown focused grey squirrel control to be key to conserving our red squirrels; we hope to deliver it through a sustainable model of local volunteer involvement," she said.
"My main focus will be on involving landowners in red squirrel conservation through the control of grey squirrels in key buffer areas such as Llanwrtyd Wells, Llandovery, Pumsaint, Lampeter, Llanfair Clydogau, Tregaron and Pontrhydfendigaid."
The five-year project is part of the Welsh Wildlife Heroes campaign run by Wildlife Trust Wales.
It is being funded by the money collected from the single-use carrier bag charge in The Co-operative food stores and pharmacies in Wales.
Projects to save the red squirrel have already proved successful in parts of north Wales, especially on Anglesey, where populations of the mammal are now thriving in woodland at locations like Pentraeth, Newborough, Menai Bridge and the Plas Newydd estate.
The squirrels have even ventured across the Menai Strait, and a colony has established in woods at Treborth near Bangor.