Kirsty Williams brands Powys council care changes 'reckless'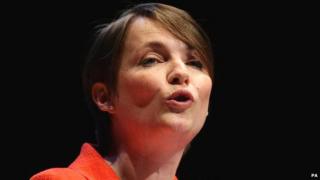 Care service changes made by Powys council have been branded "reckless" by the Welsh Liberal Democrat leader.
Brecon and Radnorshire AM Kirsty Williams said elderly women have had to rely on male care workers to help them with intimate tasks.
Her comments come after carers denied council accusations they tried to disrupt the hand-over of home care services to new companies.
Powys council said people with concerns should make contact immediately.
After streamlining the service, the authority accused a minority of outgoing carers of tactics including changing key codes and not transferring paperwork.
The companies which have taken over home care in north Powys have written to service users to apologise for an issues during the transfer period.
The number of care providers has been cut from 20 to four.
On Tuesday, Ms Williams ,the Brecon and Radnorshire AM, said she had seen "significant numbers of constituents and their families" placed in an impossible situation by how the handover had been managed by the council.
She claimed:
Elderly women were visited by male domiciliary care workers to carry out intimate tasks
Care visits were not made
Medication that care workers were supposed to observe people taking did not happen
Workers got addresses wrong
'Unacceptable situations'
In response to Ms Williams's comments, Darren Mayor, Powys cabinet member for adult care, said: "Our priority is the health and well-being of our most vulnerable residents and we are committed to providing them with our full support.
"We will continue to work with our service providers to ensure that the needs of service users are met in a timely and professional way.
"We are aware that there are a few issues where the transfer of care has not proceeded as smoothly as expected and planned for this we apologise.
He said meetings and investigations had already started in cases where the council had evidence of "unacceptable situations for service users".
"If any service user has worries or concerns about the delivery or level of care they should contact us immediately so that issues can be thoroughly investigated and appropriate action can be taken," he added.