Aberystwyth University staff could strike over pensions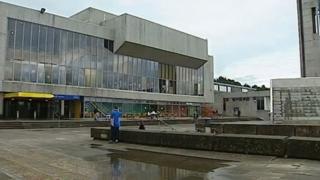 Staff at Aberystwyth University are prepared to go on strike on the first day of the new term to protest against changes to pensions, say union bosses.
Members voted in favour in an indicative ballot amid concerns a new scheme would lead to low paid workers being significantly worse off.
A further ballot would be needed to agree formal action before a possible strike could be held on 22 September.
Aberystwyth University has been asked to comment.
Members of Unite, Unison, the University and College Union (UCU) and Prospect backed action.
Unison regional organiser Simon Dunn said: "We're not surprised at the results of the ballot.
"It just confirms what we have already been telling the university - that our members are not prepared to roll over and accept these proposals.
"Industrial action is always a last resort, but the university's proposals are condemning workers to a poverty pension.
"Some of the lower paid workers are going to lose thousands of pounds a year during retirement as a result of these plans.
"It seems like the university council are sleep walking into this decision."
Any strike on the first day of the new academic year will have to go to another ballot before it can go ahead.
Martin Wilding, of UCU's Aberystwyth branch, said: "We urge the university council to reconsider at their meeting next week and vote these plans down.
"The pension proposals are unfair - it's as simple as that. They leave the low paid significantly worse off, whilst those at the top will have a decent pension."
Union staff at the university set up a soup kitchen on-site to demonstrate the impact the pension changes would have. A further lobby is planned to take place on 20 June.
Unite organiser Allan Card said: "Low paid university workers should not be expected to pick up the tab for the university's financial difficulties, particularly as those at the top are benefitting through performance related pay."