Aberystwyth's former council office to go up for auction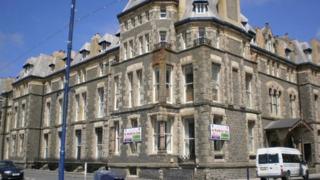 Aberystwyth's former magistrates court building, used in the BBC crime drama series Hinterland, is to be auctioned by the council after failing to sell.
Ceredigion council put Grade II listed Swyddfa'r Sir, one of the biggest buildings on the town's seafront, up for sale in autumn 2013.
It said there had been interest in it but "this has not, unfortunately, resulted in any firm offers".
The building was used as the police station entrance in the crime drama.
Swyddfa'r Sir, built in 1866, was used by the council from 1950 to 2009.
It originally opened as the Queen's Hotel and its uses over the years have included police station, dental surgery, registry office and for county archives as well as a magistrates court.
The council declared the stone and slate building surplus to requirements after moving into £15m new offices in 2009.
The council added: "An alternative sale method is now considered appropriate, and this property will shortly be offered for sale by public auction."
'Commanding'
Fiction Factory producer Gethin Scourfield said the building was both a production office and a location for the Hinterland production.
He said: "It was ideal for us because it was fantastic looking location right on the prom.
"It was a very commanding building. It worked really well of us as the entrance to the police station."
He said the Cardiff-based firm hoped to use the building again when shooting on the second season of Hinterland starts in September.