Police urge tractor drivers to let other motorists pass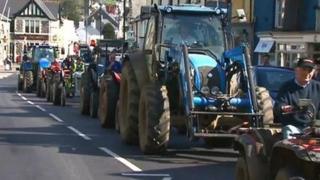 Tractor drivers in mid Wales are being urged to pull over if vehicles are queuing behind them following complaints from irate motorists.
Dyfed-Powys Police issued the plea after a number of drivers complained slow-moving agricultural vehicles were failing to let them pass.
Officers are now asking them to pull in to lay-bys when six or more vehicles follow them.
Those who do not comply could be fined.
Inspector Mark Davies of Dyfed-Powys Police said: "A few tractor drivers will travel slowly along main roads, towing long, laden trailers and not give other vehicles the opportunity to pass.
"This causes a long snake of cars behind the tractor. Driver frustration then sets in, making impatient car drivers take extreme risks trying to overtake."
Rule 169 of the Highway Code states drivers must not hold up a long queue of traffic, especially if they are driving a large or slow-moving vehicle.
Instead they are urged to make use of lay-bys to let others pass, but are advised not to pull over in an area where passing drivers would be forced to cross double solid white lines.
Failure to comply could see drivers fined up to £5,000 for inconsiderate driving.
They could also be issued with three to nine points on their driving licence.