Police raid Crown Inn pub in Lea in 'Holy Grail' relic hunt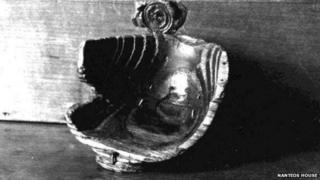 Police raided a village pub searching for a stolen Holy Grail relic but only found a salad bowl.
A team of 12 West Mercia Police officers searched the Crown Inn in Lea, Herefordshire, for the Nanteos Cup, which was once housed in Aberystwyth.
The only item found vaguely resembling the relic was a bowl for serving salad to customers.
Police said they received intelligence that the cup had been seen in the pub so executed a search warrant on Sunday.
Landlady of the 15th Century pub, 58-year-old Di Franklin, said: "If somebody had stolen something as priceless as the Holy Grail I don't think it would be on show in my pub.
"I have been shown a picture of the missing cup - if it had been here we would have thrown it on the fire because it is not whole any more.
"The only thing here that looks like it is one of our salad bowls."
West Mercia Police officers said the raid was carried out after they "received intelligence" that the stolen cup had been seen in the pub.
A spokesman said: "We were told it was still there and so executed a search warrant to try and find it."
The Nanteos Cup
Claimed to have been brought to Britain by Joseph of Arimathea after the death of Christ and taken to Nanteos Mansion by seven monks from Strata Florida, Ceredigion, during the reign of Henry Vlll
Legend says the cup, made of olive wood or wych elm, is sacred and people believed it had healing properties
After the monks died, the house was owned by the Powell family and they took possession of it for centuries
After many years it left Nanteos Mansion and came into the ownership of the Steadman family in Ross-on-Wye, Herefordshire, who kept it in a bank vault in Wales
Stolen from a home in Weston-Under-Penyard sometime between 7-14 July, 2014
The Nanteos Cup, a wooden chalice named after the mansion in Aberystwyth where it was once kept, was stolen in July.
It is claimed to be the cup Christ drank from at the Last Supper.
It originally measured approximately 12cm by 12cm but now measures 10cm by 8.5cm and is held together by wire staples and kept in a blue velvet bag.