Human remains found in Roman mine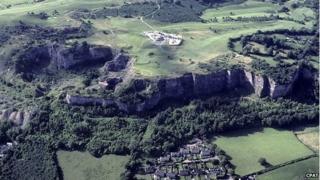 Bones believed to be the remains of a human have been found in an old Roman copper mine.
The remains were found at Llanymynech caves near Welshpool in Powys by two men exploring with metal detectors.
The site was in use for copper mining over 4,000 years ago and was taken over by Romans when they arrived in Britain.
Dyfed-Powys Police said a forensic team was helping to determine how old the bones were and their significance.
The bones were uncovered last week, a spokeswoman for the force said.
Roman slaves worked in the mines with iron picks and wooden shovels with iron tips.
A number of Roman artefacts have been found in the mine including a horde of silver coins and a number of burials have been uncovered in and around the mine.
The mine fell into disuse after the Romans left Britain before it was revived in the 12th century.