Hay bus service to Hereford saved by local group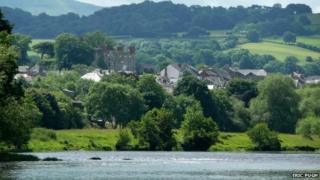 A bus service between Hay and Hereford is to continue running on Sundays and bank holidays despite the current provider pulling out.
Hay Tourism Group (HTG) acted after a study commissioned by the Brecon Beacons National Park found tourists wanted a service on those days.
HTG has joined forces with the town's chamber of commerce and groups in Hereford to support the service.
Herefordshire council will contract the service on behalf of the partners.
Anna Heywood from HTG said: "Our tourist information staff get many requests about travelling to Hereford on Sundays and we are keen to tie the new bus service in with our events such as the Hay Walking Festival and Hay Bike Fest.
"Our vision is to make the bus an integral part of the tourist experience; the chance to look at the scenery during the wonderful ride through the Golden Valley to Hay is as good an introduction to our area as you'll get."
The current 39A Sunday bus service between Hereford and Brecon will end on 28 September and be replaced between Hereford and Hay by the new Hay Ho service which will run three return services during the day.
Rail for Herefordshire and Herefordshire Ramblers are also involved in the plan.
Les Lumsdon from Rail for Herefordshire said: "This is an innovative approach where groups and communities get to plan the timetable and fares."