National Library of Wales in Aberystwyth shut over strike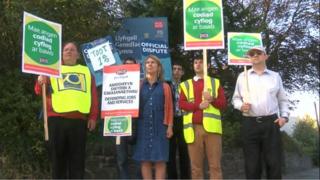 The National Library of Wales in Aberystwyth was closed to the public on Wednesday as staff held a walk out in a row over pay.
Unions at the library say they are unhappy with pay increases staff have received over the past five years.
Members set up a picket line at the entrance and marched to Sgwar Glyndwr for a rally.
The library said it was disappointed that a 3% pay award had been refused.
Chief executive and librarian Aled Gruffydd Jones said: "The library has already offered all staff a pay award of 3% together with an additional sum to employees on low wages, back dated to April 2013, placing the organisation in a position to meet the Welsh government's Living Wage target by April 2015."
Jane Lancastle from the union Prospect said they were concerned about the impact on staff and about the future of the library itself.
She said unions were seeking a consolidated pay rise, although she said they accepted offers of 1% were being made in the public sector in Wales.
"This is a national institution which cares for the heritage of Wales," she said.
"But it is losing skilled and experienced staff, and failing to attract new staff due to uncompetitive wages."