Hinterland TV drama location in Aberystwyth sold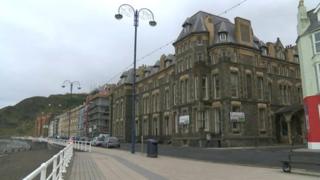 A seafront building in Aberystwyth which featured in the TV crime drama Hinterland has been sold at auction for £530,000.
The Grade II-listed property on Marine Terrace was council offices for nearly 60 years and was a police station on screen.
It opened in 1866 as the Queen's Hotel and has also housed a dental surgery and a real police station.
It was auctioned in London after failing to sell for a £1m price tag.
The hotel was taken over by the RAF for use as a local base and accommodation during World War Two.
After the war it was sold for use primarily as council offices from 1950 until 2009, when Ceredigion staff moved to the new £15m Canolfan Rheidol headquarters in Aberystwyth.
Under council ownership, parts of the building were also used as a police station, a register office, a dental surgery and a university lecture theatre.
Aberystwyth magistrates' court remained there until 2012.
The property was first put on the market in autumn 2013 for £1m but failed to find a buyer.
'Fantastic' location
TV company Fiction Factory, the maker of Hinterland, used the building in 2013 as a production office and a location for the drama, filmed in English for BBC Wales and in Welsh for S4C.
Producer Gethin Scourfield has described it as "a fantastic looking location right on the prom... a very commanding building".
The front of the building was used as the outside of the police station, while the old police cells also appeared in the series and other areas were used to portray a hospital.
The agents said there is "potential for redevelopment" and an option to buy surrounding land for £450,000.