Aberystwyth University staff strike as students arrive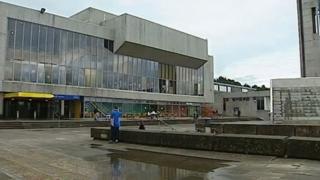 Students starting at Aberystwyth University are likely to face disruption during their first four days as staff strike in a row over pensions.
Lower-paid employees, such as administration staff, security guards and library assistants will walk out on Friday as freshers' week starts.
The union Unison said it was likely to disrupt students settling in.
The university said the strike was a "potential threat" to its viability as it welcomed its newest students.
The industrial action by members of the unions Unison, Unite, University and College Union and Prospect, runs for four days from Friday to Monday, with a march and rally planned for Saturday morning.
Simon Dunn, Unison regional organiser, said disruption was likely for students, including their registration process.
"We have timed the strike action to coincide with the start of the new academic year, and the arrival of new students to Aberystwyth," he said.
"It is a crucial time of year for the university, who will be hoping to make a good impression on new students as they arrive to begin their academic career.
"All the unions thought long and hard before deciding to take strike action at the beginning of the new term.
"The university relies on student fees to fund its activity. If Aberystwyth gets a bad reputation, it will damage the university."
He added that although members wanted to see the university thrive, it could not accept the "massive cuts" to pensions of the lowest-paid staff members.
"All we want is a fair system, where half of the staff aren't treated like second class citizens," he said.
'Threat to future'
In a statement, the university said it was "extremely disappointed".
It said: "Whilst fully respecting an individual's right to strike, to target the weekend that the university welcomes its newest students goes against all the hard work undertaken by colleagues during the past year to build relationships and attract students to Aberystwyth."
It added: "This action attempts to hit the core business of the university.
"This is a potential threat to the university's future sustainability, and aims to create concern for new students, who may be away from home for the first time, and their families."
Following a full consultation with staff and trades unions, the university council took the decision to close the Aberystwyth University Pension Scheme in June.