Striking Aberystwyth University staff to return to work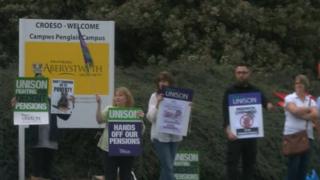 Striking staff at Aberystwyth University return to work at midnight on Monday - but a union boss is warning further action may be taken.
Lower-paid employees, such as administration staff and security guards walked out on Friday as freshers' week started.
The four-day strike over changes to pensions also included a march through the town on Saturday.
Unison regional organiser Simon Dunn said: "We'll consider further action.
"It's not over yet. We're calling on senior managers at the university to reflect on the support we have had from staff, the public and the students over the weekend.
He added: "We may strike again until the university comes back around the table. Attacking pensions is not the answer."
In a statement on the industrial action, Aberystwyth University said: "Many universities, companies and other organisations have already had to amend or close their original direct benefit pension schemes.
"It is an unfortunate reflection of common financial conditions that none of us can expect pensions benefits to remain unchanged in future; and that goes equally for members of the Universities Superannuation Scheme, on which we anticipate a consultation to begin shortly.
"The University takes no pleasure in changes that will lead to reductions in benefits for some individuals, but we have a duty to ensure a sustainable University for the future, thus protecting jobs and our student experience."