Powys couple buy graveyard for community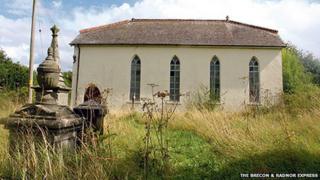 A farmer and his wife have saved a graveyard for their local community in Powys.
Vince and Elaine Stephens bought the burial ground at Bethania United Reformed Church, Talgarth, after they heard it was to be sold by the church.
Mr Stephens' parents are buried at the chapel and he wanted to ensure burials for local people would continue there.
The couple are now to put the graveyard into a trust for the whole community.
Mrs Stephens, 59, from Talgarth, said: "The graveyard is an essential part of our community.
"My husband's parents are both buried there and he went to Sunday school in the chapel.
"The chapel has been closed for a few years and up until we bought it, the graveyard has been closed since July.
''Very grateful'
"We've had a wonderful reaction from local people. We've had phone calls, cards and been stopped in the street.
"Everyone is very grateful.
"The graveyard was about to be sold off with the chapel until we bought it. The chapel is now up for sale on its own."
Mr Stephens, 69, added: "We are very pleased to have secured it on behalf of the local people."
Suzanne Cole, property officer for the United Reformed Church National synod of Wales, said: "We are pleased to confirm that a local farming family have set up a trust which has purchased the burial ground.
"The declared objects of the group are to manage the land - primarily as a private burial ground."
Mrs Stephens declined to confirm how much the graveyard had cost.