Injured seal pup found in Borth car park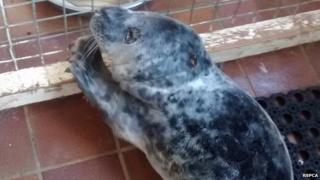 An injured seal pup found in a Ceredigion car park has been rescued by the RSPCA.
The disorientated male, who is thought to be around six weeks old, had crossed the beach and a busy road, ending up near the RNLI boathouse in Borth.
He was weak, thin, and had several injuries when he was found on 4 October.
The RSPCA hopes he will eventually recover enough to be released back into the wild.
A spokeswoman said the pup would need several months rehabilitation at a dedicated centre before it could be released again.
RSPCA animal collection officer William Galvin said it was important to monitor lone pups before removing them from their home area.
"This pup was obviously in distress and had been injured, but not all lone seal pups have been abandoned," he said.
'Nasty bite'
"If you find a seal pup that looks fit and healthy, and shows no signs of distress, monitor it first from a safe distance for 24 hours.
"Please don't touch seal pups as they can give a nasty bite, and keep dogs and other animals away from them."