'Dead Man's Penny' search for Aberystwyth WW1 relatives
A British Legion member is looking for the relatives of two World War One casualties from Aberystwyth to give them a "Dead Man's Penny".
The bronze coins were issued after the war to the families of all British soldiers who died.
Gwyn Evans said the coins were "found during a building job... (they) must have been there for years".
Mr Evans has enlisted the help of the Reverend Ian Girling from Holy Trinity Church is Aberystwyth.
Personal value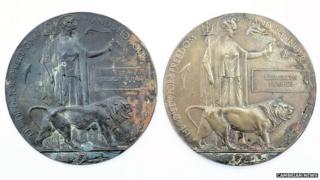 It is believed the two men awarded the coins were Llewelyn Hughes and Trevor Jones, who both died in 1917.
Llewelyn Hughes is thought to have been a sailor who went down with his ship. His mother, Mary Hughes, lived on Prospect Street in Aberystwyth.
Mr Evans said the coins have been "lost" since the World War One 100 years ago.
"Life must have been very cheap in those days...one life was worth one coin," he said.
He is sure the coins will be popular antiques, but also carry a special "personal value" for the relatives of victims.
"I would be very pleased if the coins found their way home," Mr Evans added.
---
"Dead Man's Penny"
The commemorative coins were given after World War One to the relatives of soldiers who died.
They are 4.5in (11cm) in diameter.
The design was decided by a competition, which had over 800 entries
The coins show a figure of Britannia holding a laurel wreath and a trident. A lion stands at her feet and dolphins frame the coin, to portray Britain's naval power.
Inscribed in bronze is the soldier's name and the words "He died for Freedom and Honour".
It is thought 1,300,000 were issued.
---